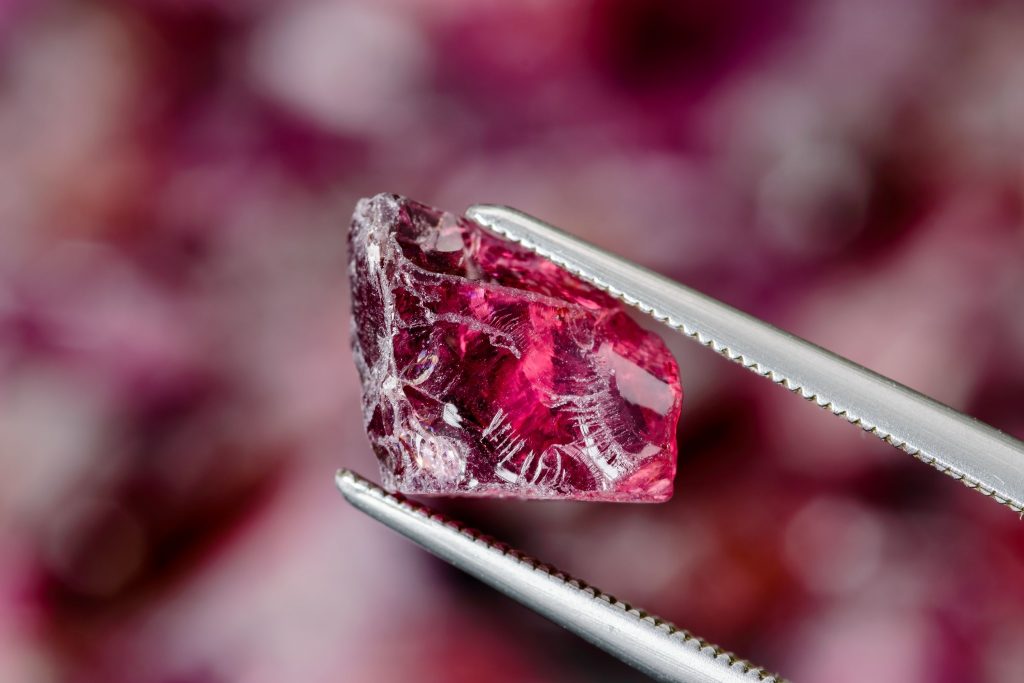 Garnet is a semi-precious gemstone frequently incorporated into some of the most modern, beautiful handmade jewelry in the world. It is most often found in shades of deep red, and is widely recognized as the January Birthstone and the gemstone for the 2nd, 5th and 7th anniversaries. But beyond its modern-day uses and associations, garnet holds a decadent mythological, spiritual and etymological history that adds nostalgic value to its already strong aesthetic worth. Read on for more information that will help you fall in love with your garnet jewelry – or inspire you to buy some today!
Traditonal garnet exhibits deep rich red to brownish-red tones. The incredible beauty of garnet however comes in a variety of colors, including yellowish-green, pinkish-orange, and purple, and all the hues in between. Rhodolite Garnets are the most valuable of the red garnet types, with stunning deep purplish-red tones. Grossular Garnet is genuinely light to dark yellow to reddish-orange and sometimes clear. Hessonite garnet is a type of grossular garnet that displays yellow and reddish-orange colors.
The name garnet is derived from Latin meaning grain or seed, as the tiny crystals were thought to resemble seeds from the pomegranate. The majority of garnets come from sources in Africa, where the fines green garnets (called Tsavorites) command prices comparative to the precious Emerald. Other mine sources include Central Europe, Russia and Brazil.
Garnet gemstones look best as parts of formal evening jewelry when paired with Black Onyx, black pearls or diamonds. More casual combinations include contrasts such as dark red garnet with yellow-brown citrine, white pearls, raw diamonds or light blue aquamarine. To see a selection of handmade artisan jewelry featuring garnet. Garnet is typically considered a sophisticated gemstone that works well with any outfit. In earrings, it works especially well to enhance the glitter of brown or hazel eyes.
Thousands of years ago Egyptian pharaohs revered garnets, viewing the gemstones as prizes to take to the afterlife. In Victorian times, garnets were referred to as "carbuncles." Popular throughout the Middle Ages within the higher echelons of society, garnets were favored by travelers who wore them for protection. Today, many believe that garnets provide protection from disease and promote feelings of peace, strength, confidence and productivity.
Mohs' Hardness score is based on a 10 point scale where 10 is the most resistant, like a diamond, and 1 is easily scratched, such as Talc. Regular garnet gets a score of 7-7.5, meaning that it is fairly scratch resistant and therefore suitable as a component of jewelry. Garnet gemstones should be regularly cleaned by a professional or with a soft rag and mild soap and water. Avoid ultrasonic cleaners, solvents and harsh chemicals when cleaning your handcrafted jewelry as exposure to these elements can damage semi-precious and precious gemstones and pearls.
Learn more about all semi-precious gemstones, including amethyst, apatite, aquamarine, black onyx, blue topaz, carnelian, chalcedony, citrine, coral, white topaz, crystal, diamond, emerald, iolite, jade, Labradorite, moonstone, pearl, peridot, prehnite, rose quarz, ruby, sapphire, smokey topaz, tanzanite, tourmaline and tourquoise when you check out this gemstone chart: dashaboutique.com/gemstone chart.html.
About the Author – Sarah Stephens is the Fashion Director for Dasha Boutique. Visit our online shop today, featuring hundreds of handmade jewelry designs. Customize orders ship in 3 business days. Dasha Boutique is featured in Lucky, InStyle, People, Bridal Guide and Brides.
Garnet – January's Gemstone Of Romantic Red