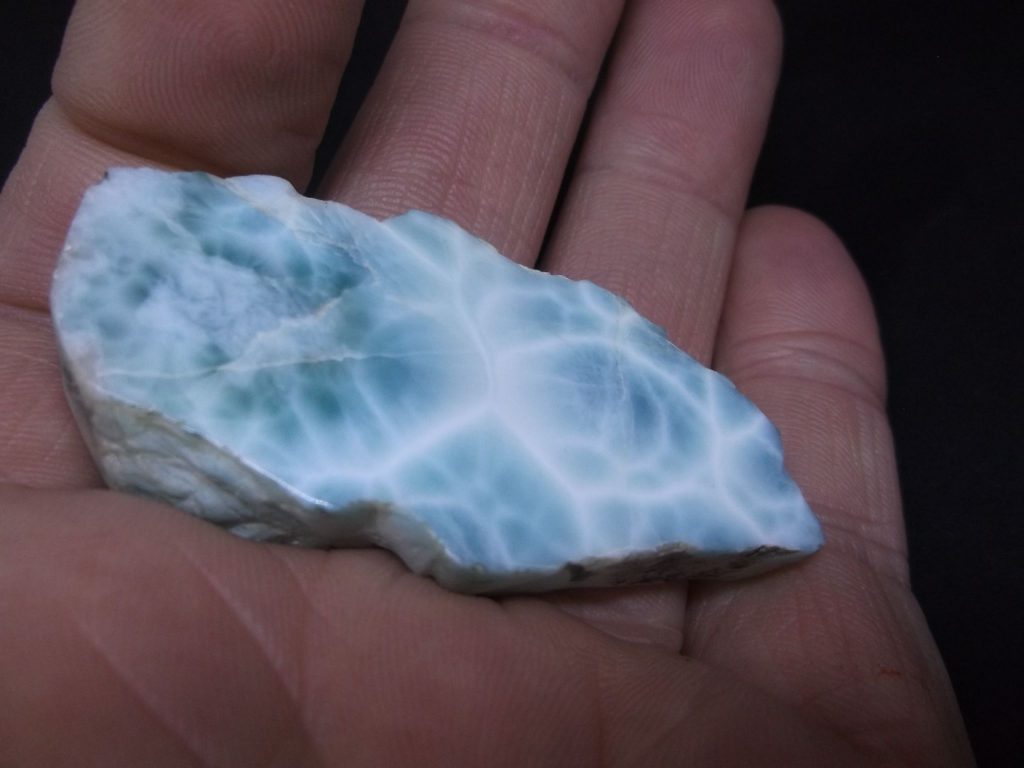 Nuggets look exceptionally magnificent with the Larimar a brilliant blue stone. Larimar is a variety of the pectolite found only in a small inaccessible region in the Dominican Republic. When properly shaped, cut, and polished, Larimar produces a brilliant turquoise glow, which adds to it splendor.
Larimar is an extremely rare gemstone that is found in only in an inaccessible, mountainous, volcanic region of the Dominican Republic that overlooks the Caribbean Sea. Dominicans have long been aware of this wonderful stone, which they have been using in jewelry since centuries, but it is only after 1974 when Larimar got its due respect and recognition.
Larimar is currently one of the newest and the most demanded gemstones in demand. Its popularity is attributed to the implausible Caribbean Blue color and its rarity. This is the reason why only handful of jewelers are found offering Larimar jewelry.
Hemimorphite is a look-alike of the Larimar but is available at a fraction of Larimar's cost. There are plenty of instances of Hemimorphite being offered to customers in the name of Larimar. Hence, the authenticity of any online shop offering Larimar should be tested before going for a purchase.
WholesaleLarimar is a leading online store offering Larimar at its best. Be it Larimar nuggets, Larimar sterling silver jewelry, Larimar golden jewelry, or simple Larimar stone, you wouldn't find a more elaborate collection elsewhere.
Ryan Smith is an associated editor with the website wholesalelarimar.com – Larimar Wholesale Supplier, and many other informative as well as shopping or business websites.
Larimar is a blue pectolite, and a result of vulcanic activity, which ocurred many million years ago on the island of la "La Hispañola". Its crystallization took place when the volcanic lava was cooling off as columns in the tubular "chimneys", in which these pectolites, andesites, basalts and other minerals formed.
The pectolite, formerly denominated "ratholite", is an acid silicate hydrate of calcium and sodium. Of ample diffusion in the world, we can find deposits of this mineral, known as outcrop, at very distant places of the planet: The United States (Michigan, Arkansas, New Jersey, California), Canada, England (Scotland), India, Austria (Tyrolia), among others. All have in fact been results and consequences of this volcanic Earth activity, many million years ago
The only locality where Larimar or blue pectolite appears on the terrestrial crust, is the province of Barahona, in the south-western region of the Dominican Republic.
Larimar - The Precious Gemstone
Gemstones – The rarest minerals, crystalline rocks or petrified materials of nature. These are highly valuable for their beauty, rarity, durability, hardness and amazing colors. Mostly gemstones is used in jewelry produced with gold and sterling silver jewelry and really has become the soul of jewelry. Even in prehistoric times, people were attracted to pretty pebbles, and when combined with translucency or even transparency with color, they were highly prized. Some high quality of these stones known as precious gemstone like diamonds, sapphires, emeralds & rubies, LARIMAR is one of them.
COLOR is one of the most important and individual characteristic to gemstones. The color should be rich – not as light as to give the stone an anemic appearance, nor as deep as to make it look dark or even black, particularly in artificial light. Too dark color reduces transparency and stone's lively look, which can be achieved by skillful cutting and faceting by making it a bit sparkle. The blending of the various colors or tints of the same color and the various designs and patterns produced as they are by nature, give such stone an individual appeal that makes each one unique.
Another character that makes a difference in the available gemstone is quality, a high luster. Larimar, amber and some other garnets have a resinous luster, while turquoise is sometimes described as "waxy". Luster does not give a stone brilliance. In certain gemstones brilliance is produced by the skillful cutting of the stone's facets in such a way that they reflect light like mirrors, making the whole stone bright and shining when viewed from the top.
These Gemstone characteristics distinguish them and their unique appearance from the entire available sets of other precious and rare minerals. There is, however, a most important attribute which gemstones should posses: permanence.